Material Capabilities: Wood, Metal, Solid Surface +
Bishop's vast material expertise and fabrication capabilities allow us to create anything you can dream up. Our engineers and material experts will work with you to develop a one-of-a-kind product consisting of wood, metal, glass, acrylic, vinyl, solid surface or any combination.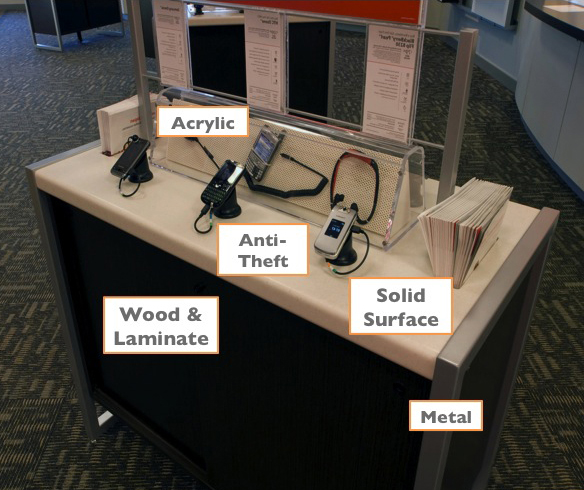 Fixtures, Displays, Millwork +
These extensive capabilities have made Bishop Fixture + Millwork a single source supplier for retailers in need of fixtures, displays, signage, furniture, hardware, architectural millwork, props, store accessories and more. Bishop's product offerings include:
Merchandising Displays & Fixtures

Mall & Indoor/Outdoor Kiosks

Cashwraps & Counters

POP & Interactive Displays

Furniture, Tables & Seating

Perimeter & Freestanding Casework

Platforms, Risers, Cubes, Pedestals

Gondolas, Carts & Endcaps

Architectural Trim & Moldings

Décor Packages

Column/Soffit Enclosures

Slatwall & Slatwall Fixtures

Hardware and Standards

Graphic Frames

Lit and Unlit Signage & Props

Racks and Hangers

Storage and Backroom supply
UL Electrical, Security, Anti-Theft +
Bishop Fixture + Millwork is UL Certified in Wired Cabinets and experienced in manufacturing cash wraps, cabinets, POP, Kiosks and displays which safely incorporate your power needs. When it comes to security, Bishop is experienced with the leading brands such as Vanguard anti-theft and anti-shoplifting devices.
Low-VOC Finishes with Improved Durability
Bishop's finishing capabilities include wood and metal powder coating, automated finishing, and 5 spray booths using low-VOC and water-based paints. Bishop's custom water base paints reduce VOC's by up to 62% compared to lacquer, contain no Hazardous Air Pollutants, and improve product durability and performance. This allows clients to improve their stores air quality while simultaneously extending the life of their fixtures and overall return on investment. Whatever the precise project needs, Bishop strives to deliver a solution as flawless and cost effective as you will find in manufacturing today.
Domestic + International Manufacturing
Bishop Fixture + Millwork blends its U.S. custom fixture manufacturing with international partners to provide Bishop's trademark level of quality, service and turnarounds while minimizing costs and offering localized support services in growing countries such as China. Bishops facility in Western Wisconsin consists of 350,000 sqft fabricating in nearly every material, construction, and finish available today. Bishop's partner in Shanghai China is a leader in wood & metal furniture and components with a 20+ year history of performance and integrity. Together, Bishop serves the global market with confidence.
Loyal Support Behind Your Products
Over 30 years of experience in retail, restaurant, and corporate fixtures & interiors brings savvy insight to your project from start to finish. Whether it's spotting oversights that save you money now or standing by your product down the road, Bishop takes extra care to ensure your project is an absolute success. Warranties can be developed on a per fixture basis to meet specific demands and protect our clients against defects in materials and workmanship.
-> Learn about Bishop's Sustainable Initiatives
->Learn about Bishop's Global Manufacturing + Services
Download Company Information